Veronica's Story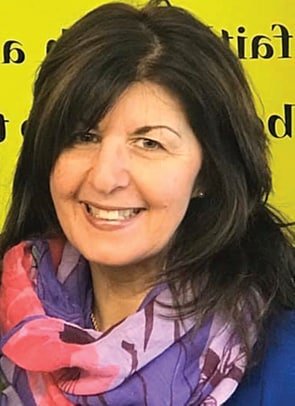 Veronica Vescio-Wrigley is celebrating her first year in business, owner of Cathy's Flower and Gift BoutiqueWasaga Beach, ON. Over a year ago, Veronica was visiting her friend Cathy who announced she was retiring, selling everything including her business. Leaving her surprised, Veronica began asking Cathy many questions, When? Where will you be traveling? What kind of buyer are your looking for? This conversation went on for about an hour. She looked at Cathy, without a blink of an eye, Veronica responds, "what about me?" Cathy loved the idea, thought Veronica would be a perfect fit. She went home called her husband David and said, "I think I just bought a flower shop", laughing he said, "I'm not surprised". Her journey began, from owning her own painting and decorating business to a Certified Aging in Place Specialist, now florist, shop owner.
Veronica brings with her corporate management, business, life coaching experience and customer service. Veronica has contributed to the community through volunteering with the Lions Club, VCARS and the WSA, Wasaga Society of the Arts as a Protections Officer. Veronica lives and works in Wasaga Beach with her husband David and their puppies Ellie and Tucker. They also enjoy their time off with their children and grandchildren.
She has transformed Cathy's Flower and Gifts making it her own, with a new look, new design, new colour and new branding.
The Lotus flower is a symbol of purity, enlightenment, self regeneration and rebirth. Its characteristics are a perfect analogy for the human condition: even when its roots are in the dirtiest waters, the Lotus flower produces the most beautiful flower.
The meaning of Blue…colour of the sky and sea, depth, stability, symbolizes trust and loyalty, wisdom, confidence, intelligence, faith, truth and heaven, beneficial to the mind and body.
The meaning of Green…colour of spring of renewal and rebirth, harmony, balance, growth, renews and restores energy sense of wellbeing.
Veronica's business continues to grow with new staff. They are ready to create unique flower arrangements just for you! Drop by to meet Veronica and her staff and say hello!
Always excited to serve Wasaga Beach and surrounding area residents and businesses, Veronica and her staff provide exceptional customer service, affordable pricing and lots of variety of dish gardens, fresh bouquets created and designed to suit any occasion.
Let Cathy's Flower and Gifts be your first choice for flowers, gift ideas from local artisans for those special occasions, events or just because!!! Offering online, telephone and curbside orders as well as home delivery and curbside pick-up.
We've created a place for healing and hope for our communities, helping our customers through their journey of life as they celebrate all occasions, birthdays, births, anniversaries and memorials.